In the wake of the pandemic, digital drive-thru is being increasingly employed to revolutionise the way businesses operate and consumers interact with their favourite brands. In the United States, 75% of profits are being attributed to drive-thru post-pandemic, and there is no doubt that drive-thru is also experiencing a surge in Australia. This article explores the future of drive-thru in Australia, with a focus on global trends, and how digital drive-thru menu boards can enhance customer experience, streamlining speed, and maximising profitability.
1. Drive-Thru On the Rise Across Industries
The pandemic-driven success of drive-thru is seeing this channel being used creatively across industries and business models. During lockdowns, Melbourne became home to the world's largest drive-thru facility, servicing 200 organisations. The aim was to counter the dominance of delivery apps, which often slice off a significant portion (30-35%) of businesses' profits. Supermarkets are also adapting drive-thru – Coles is introducing ClickNCollect Rapid to 400 stores, where groceries are available for pickup within 90 minutes of ordering.
Service stations are also getting in on the act with drive-thru now a common part of leasing strategies due to their strong performance. Australia's first drive-thru ramen outlet is an example. Then there is talk of drive-thru pharmacies and the US is predicting that more sophisticated dining establishments will start to look to the drive-thru model.
In the traditional quick service restaurant market, drive-thru only outlets are on the rise. At Australian specialty coffee outlet Zarraffa's, founder and CEO Kenton Campbell explained the brand's shift to drive-thru only stores : "This next iteration of our operation is designed to be built in a shorter amount of time, on a smaller footprint and combines top operating principles with a lower cost of entry, what's not to love?".
2. Technological Innovations for Speedier Service
Consumer preferences and technology innovations are behind evolving digital drive-thru experiences. A 2021 study showed that the top feature for consumers was a dedicated lane for mobile pickup.
Indeed, multi-lane drive-thrus are becoming increasingly commonplace. This typically involves designated lanes for different order types, such as app orders, delivery drivers, and on-site orders. Pre-ordering allows customers to save time and bypass waiting.
Ordering options are also expanding. Contactless ordering is now standard, along with self-ordering kiosks. The drive-thru industry is increasingly looking to personalisation to speed and improve the experience. Personalised deals, digital drive-thru menu boards that greet customers by name and remember their regular orders, are popular features with customers, enhancing their overall drive-thru experience.
Digital drive-thru menu boards themselves should be dynamic and enticing – showing the latest promotions, with the ability to adapt by variables such as time of day or weather. Consumers are increasingly drawn to interactive digital drive-thru menu boards that go beyond static displays.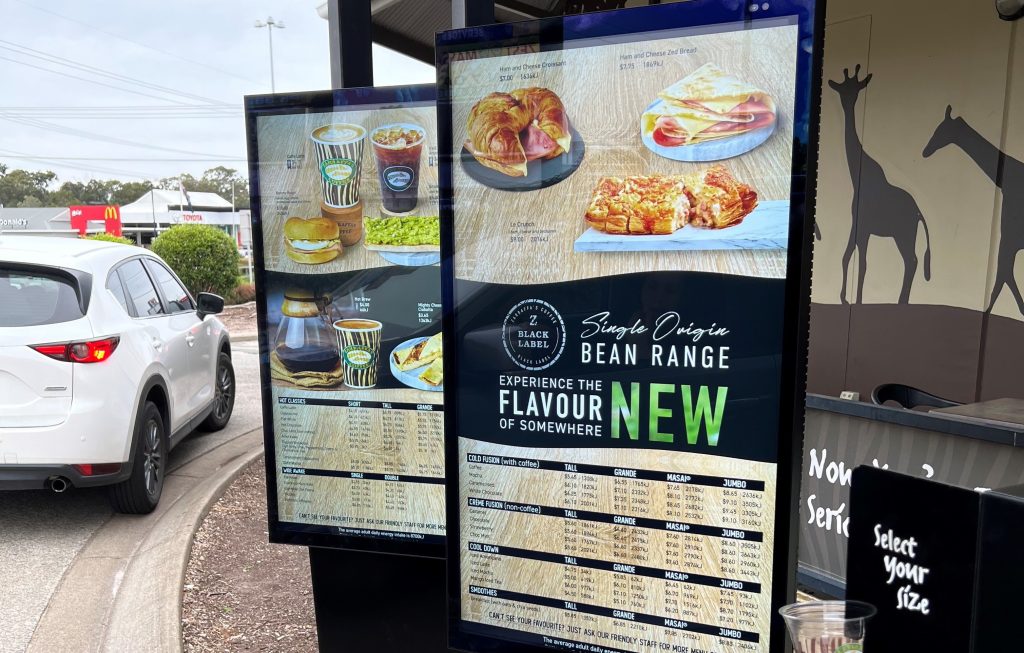 It is now a must-have to integrate any digital drive-thru menu boards and digital signage with your POS system. This allows pricing to be real-time, reliable and dynamic. There should always be a confirmation screen, so that the customer can correct any mistakes and be shown the pricing prior to confirming.
At the cutting edge, some companies are experimenting with AI voice assistants, kitchen robots and automation and conveyor systems.
3. Sustainability and Energy Efficiency
With idling engines contributing to rising emissions and fuel consumption, some American towns have banned drive-thru, and the industry is becoming increasingly aware of its environmental footprint. KFC is experimenting with solar-powered drive-thrus, while McDonalds is integrating electric car charging stations into its business model. A chain called Amy's Drive-Thru is aiming for net zero status, with compostable packaging, recyclable building materials, organic produce and water recycling.  While there has also been talk of the industry offering incentives for electric cars, the quickest fix to reducing idling is providing pickup for pre-orders.
The future of digital drive-thru technology in Australia holds immense promise for businesses across various industries. By embracing interactive software, personalisation, and technological advancements, drive-thrus have the potential to revolutionise the customer experience, streamline operations, and boost profitability.
As consumer expectations evolve, businesses must stay ahead of the curve by leveraging technological innovations and providing seamless, personalised, and efficient drive-thru experiences. By embracing the future of drive-thru technology, businesses in Australia can create a competitive edge, drive customer loyalty, and capitalise on the immense potential that this innovative approach offers.