Whether visiting an orthopaedic or oncology clinic, a hospital clinic visit is often a source of anxiety for not only the patient, but also caregivers and loved ones. As far as the patient experience goes, any anxiety can be exacerbated by a lack of transparency, choice and communication. The patient may feel in the dark, wondering: when will I be contacted by the hospital? When will I get an appointment? What if that time or date doesn't suit with work or other commitments? What will happen at the appointment and how long will the wait be? Is there anything I need to do to prepare for the appointment? What medical information will the clinic have access to and do I need to bring any records?
From the hospital's viewpoint, outpatient clinics often operate as inefficient, independent silos. As a recent HBR article argued, digital transformation should not be confined to clinical decision-making – but also has a substantial role to play in optimising hospitals' operational decision-making.
We'd take this one step further. By digitising the outpatient patient journey, we can empower patients and their families to become active partners in their care journey – by setting expectations and enabling two-way communication between patient and hospital about the appointment and required preparation. 
Here's how.
In an outpatient setting, patients often wait weeks or months after visiting their GP to receive a letter advising them of an appointment. If the date or time doesn't suit or they have questions, a phone call is required. Digitising this process involves communicating with the patient at the earliest point – when the referral is received by the hospital. The patient can receive a text or email message explaining the process and setting timeframe expectations. By increasing transparency and communication, we help to alleviate uncertainty and anxiety. In addition, if the patient's condition has resolved or they have sought treatment elsewhere, the patient can let the hospital know immediately via secure messaging to have themselves removed from the waitlist. Improving waitlist management may also involve shifting the patient flow from first-in, first-out to one based on need and priority to ensure that those most in need are treated first.
In a digital journey, the patient receives another electronic notification as the appointment is scheduled, along with an invitation to join the patient portal. Here, they can confirm details such as Medicare number, complete and return electronic forms, change their appointment date or time, and review information about how to prepare for their visit. Reminders are issued automatically, and patients can confirm their availability to attend, reducing resource-intensive and expensive call centres. If a patient needs to visit multiple clinics, this information becomes visible to all, making coordination between clinics easier. The ability to schedule and reschedule appointments is a high priority for patients, according to a recent US study that found that 67% wanted this capability – including a high proportion of older patients. 
At the highest point of anxiety for the patient, digital technology can ease points of friction. Our patient has received electronic reminders of the appointment time, location and preparation. We can provide digital navigation – to find the hospital, locate the best carparking and then navigating the hospital campus to the clinic, ensuring the patient arrives on time. Rather than require the patient to stand in long queues, check-in can be phone-based and instant. If there is a wait to be seen, the patient can be notified proactively and provided information on nearby cafes. This not only alleviates frustration, but reduces waiting room density and thereby improves social distancing. The patient is notified when they need to return to the clinic and they return in a more relaxed state than would otherwise be possible.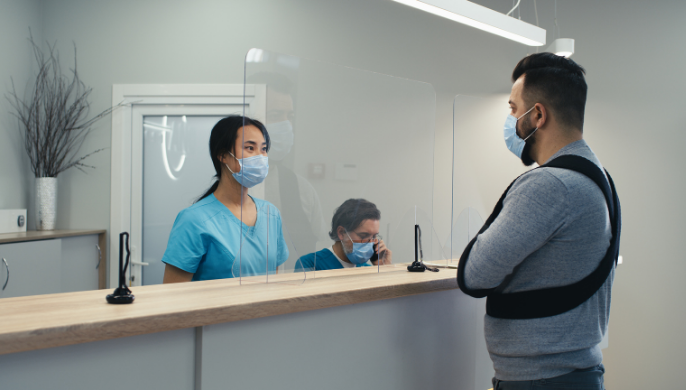 At this point in the process, the hospital has a wealth of real-time data. We can take this one step further by digitally overlaying the workflows involved in the appointment. In an orthopaedic visit, a patient may visit the plaster room, have an x-ray, then see the specialist. If this flow is recorded in real-time, bottlenecks become visible and specialists can make instant decisions on which patient to see next. Additionally, by capturing each step formally, the hospital can ensure each step is billed correctly to reduce lost revenue. 
These valuable analytics can then be used to make continual service, resourcing and patient flow improvements. The digital journey can: 
Reduce Did Not Attend rates with improved communication and easy digital access for patients to change appointments

Reduce billing issues by confirming Medicare card details prior to the appointment

Reduce the number of patients arriving late with digital reminders and wayfinding
Reduce Did Not Wait rates by managing queues digitally, improving workflows and improving communication to manage patient expectations
Enhance coordination between clinics for patients with multiple appointments
Enable easy comparison of clinics to identify opportunities for improvement
Patients can be reminded of aftercare advice to reduce readmissions and emergency department presentations, further educational material can be sent, feedback can be collected digitally (PREMs and PROMs), and follow-up appointments can be made and changed. 
How to Achieve Rapid Digitisation
Hospitals often face a plethora of technology used by their outpatient clinics, which appears to be a barrier to digitisation. But solutions such as Five Faces'
DX5 Framework
are not only technology-agnostic, they act as a pane of glass: the seamless interface between disparate systems and the patient. This technology drives digital workflows, integrates with existing systems, while presenting an engaging patient portal to the user and issuing electronic communication such as text and email reminders. Unlike technology of old, the framework is designed in modules that don't require coding. This allows outpatient clinics to start small with one piece of their workflow, and iteratively improve – faster than was previously possible. Learn more about the
Five Faces Health Suite